Driver Updater
Now your computer can do more!
Wrong or old drivers are the enemy of every computer system. Often, drivers are missing or hopelessly outdated. Ashampoo® Driver Updater not only finds the best drivers but also installs them for you.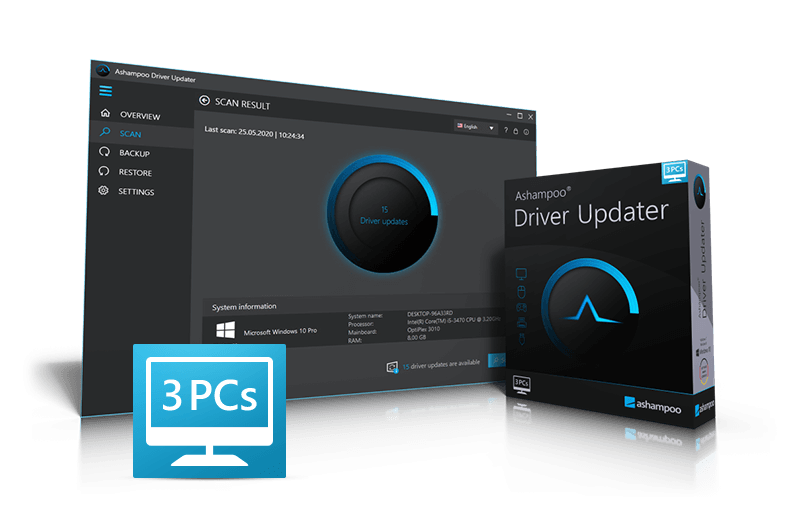 Optimal performance through up-to-date drivers!
| | |
| --- | --- |
| | More than 400,000 drivers available |
| | Over 150,000 devices supported |
| | Maximum system stability |
Scan - install - done
There's no need for menu acrobatics with Ashampoo Driver Updater. The well-designed program performs its job of keeping your computer up to date quickly and with a high degree of usability. It analyzes your hardware components and drivers, compares the results against a gigantic database - and then replaces outdated drivers with their latest versions.
Always there for you
You decide when Ashampoo Driver Updater will spring into action. The built-in scheduler gives you reliable control over when the program will scan your system for updates. Once set up, you don't have to waste another thought on it and your system will stay up-to-date, always!
Problems? There's a solution!
Crashes, sound problems, graphics issues or bad performance frequently stem from wrong, corrupt or outdated drivers. After the transition to Windows 10, many system are now running "somehow" but not optimally. Let Ashampoo Driver Updater fix what Windows itself can't fix for you!
Maximum gaming performance
Drivers are constantly being developed and updated to avoid crashes and make the most out of installed hardware components. Especially games immensely benefit from a high system performance. Current graphics drivers can give you that extra boost when you need it.
Safety to the max
You won't take any risk with Ashampoo Driver Updater. Its built-in backup feature allows you to save and restore any driver if needed. Keep only what really benefits you!
The good feeling when everything just works
Even without noticeable crashes, your system components might not be working optimally. WLAN dropouts, hissing sound or disconnected printers are frequent issues. Often, it's Windows default drivers to provide less than ideal functionality. Leave no more room for subpar drivers!
The perfect Windows system
The transition to Windows 10 meant a lot of trouble for many users. Will installed hardware components still be supported, what are they called and where can suitable drivers be obtained? Ashampoo Driver Updater does the hard work and instantly finds all available Windows 10 drivers for you.
For an up-to-date, lean and secure system!
Ashampoo® UnInstaller 9 is your magic broom to wipe unwanted software from your system without leftovers! The program creates detailed logs of all installations and removes them down to the last byte, when needed! For better customizability and privacy protection, try Ashampoo® WinOptimizer. Clean your PC from orphaned or temporary files, adjust security settings with ease and take advantage of over 38 modules to create the perfect Windows environment! Ashampoo® ZIP Pro 3, on the other hand, is the complete solution to handle file archives in over 60 formats, including favorites like ZIP, RAR and ISO. Compress and encrypt your files, upload them to the cloud and experience a file manager that has the features you always craved in Windows Explorer!
Supports more than 150.000 devices with 400.000 drivers.
Ashampoo Driver Updater provides updates for a wide variety of components and devices from professional to lesser known brands. As soon as new drivers become available, the instantly get added to Ashampoo Driver Updater's huge database and therefore become available to you.
Benefits at a glance
Always up-to-date driver database
Comfortable driver backup and restore features
Fix defective systems with ease
The perfect choice for Windows 10 - it finds all drivers
Finds and updates missing or outdated drivers
Greatly facilitates the transition to Windows 10
Fixes WLAN, sound and printer issues
For a faster, more stable system
Fully optimized system usage
Installs all required drivers with a single click
Reduces the risk of system crashes and freezes
Up-to-date driver database
Printer driver
USB driver
USB hard drives
Network controllers driver
Hard disk drive driver
RAID controller driver
Monitor driver
Webcam driver
Sound card driver
Drivers for CD, DVD and Blu-ray drives
TV cards driver
Keyboard driver
Motherboard / Mainboard driver
Mouse driver
SCSI driver
Bluetooh dongle driver
Cell phone driver
WLAN driver
Camera driver
Scanner driver
Operating System
Windows® 10, Windows® 8, Windows® 7
Computer:
Any computer that supports the above operating systems.
Other:
An Internet connection is required to activate the program. The program license is verified repeatedly at regular intervals.
Full administrative rights are required to use the program.